Say Something Meaningful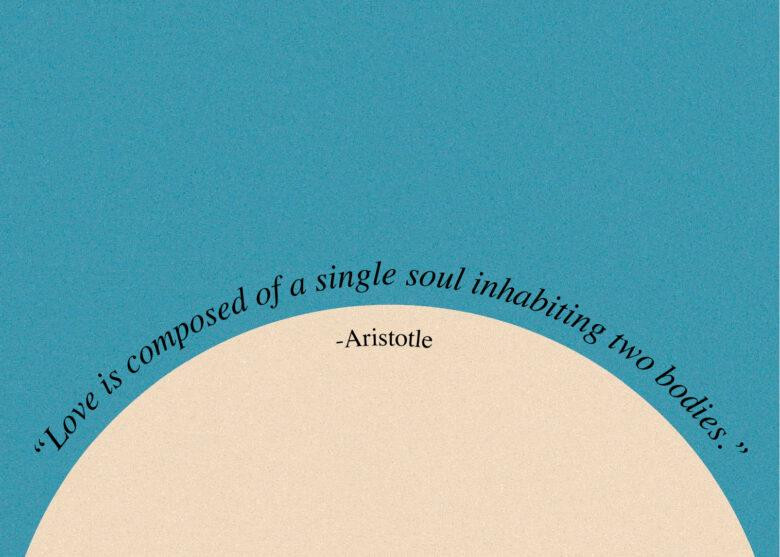 1. "Love is composed of a single soul inhabiting two bodies."
Aristotle
2. "I look at you and see the rest of my life in front of my eyes."
Anonymous
Show Your Sense of Humor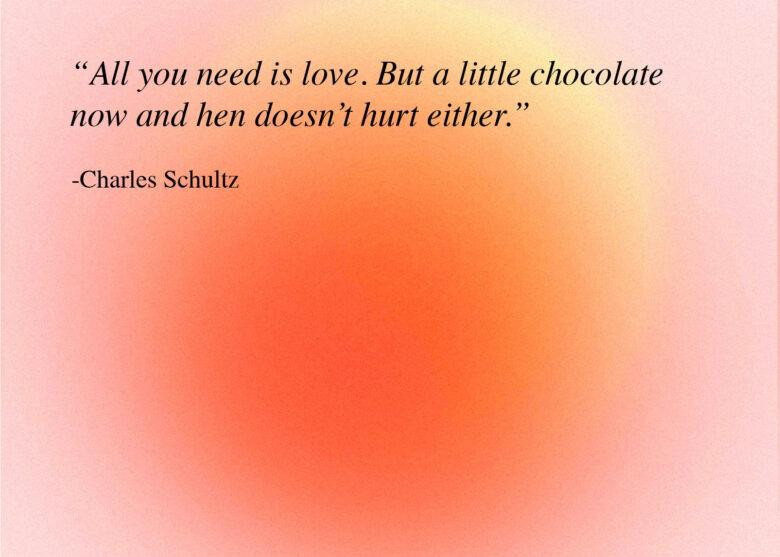 3. "All you need is love. But a little chocolate now and then doesn't hurt either."
Charles Schultz
4. "Love is being stupid together."
Paul Valery
5. "True love comes quietly, without banners or flashing lights. If you hear bells, get your ears checked."
Eric Segal
Say It Simply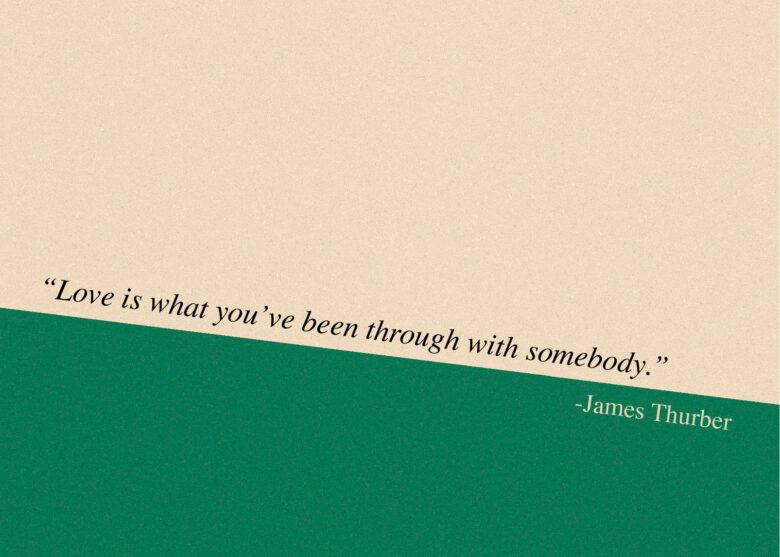 6. "Love is what you've been through with somebody."
James Thurber
7. "My heart is and always will be yours."
Anonymous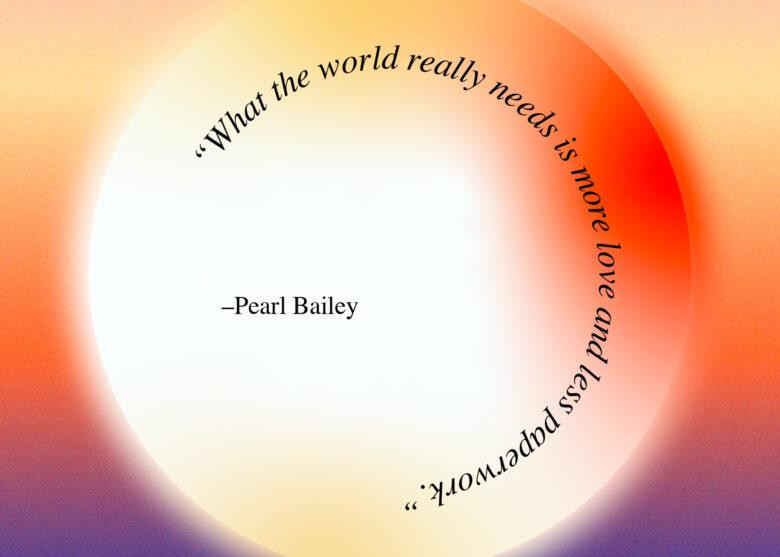 8. "What the world really needs is more love and less paperwork."
Pearl Bailey
9. "I want a man who's kind and understanding. Is that too much to ask of a millionaire?"
Zsa Zsa Gabor
Get on a Deeper Level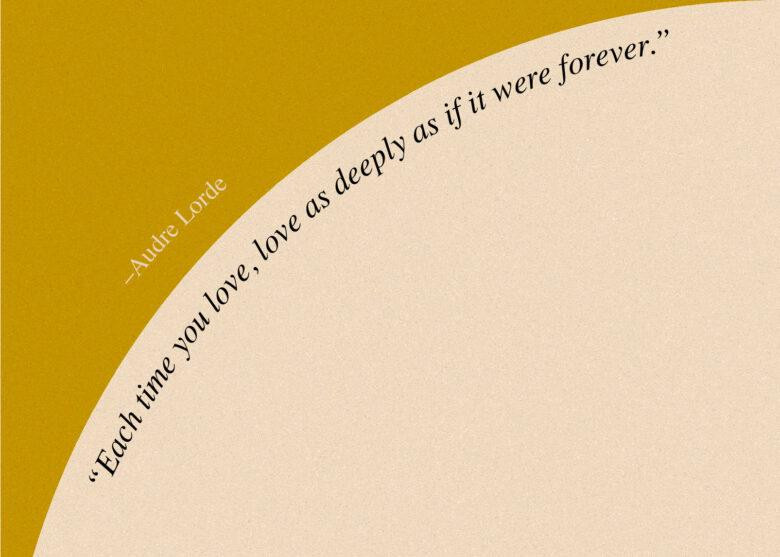 10. "Each time you love, love as deeply as if it were forever."
Audre Lorde
11. "You know you're in love when you can't fall asleep because reality is finally better than your dreams."
Dr. Seuss
Love Is Eternal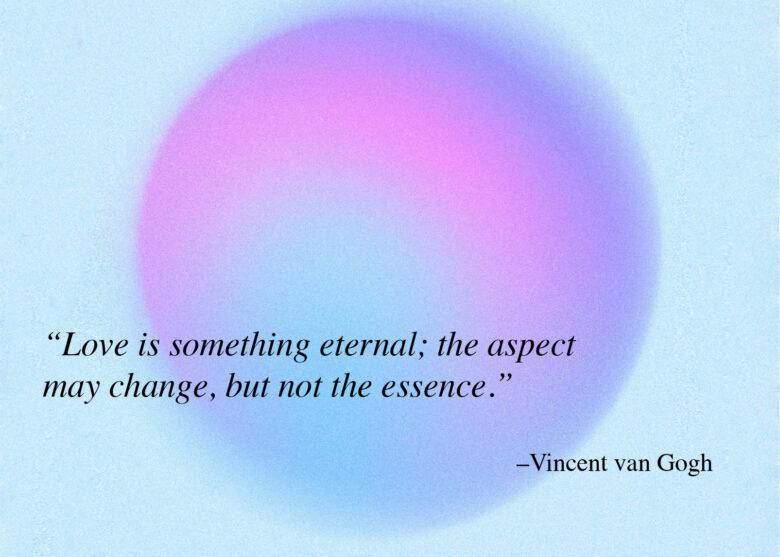 12. "Love is something eternal; the aspect may change, but not the essence."
Vincent van Gogh
13. "If you remember me, then I don't care if everyone else forgets."
Haruki Murakami
Show You're on the Same Page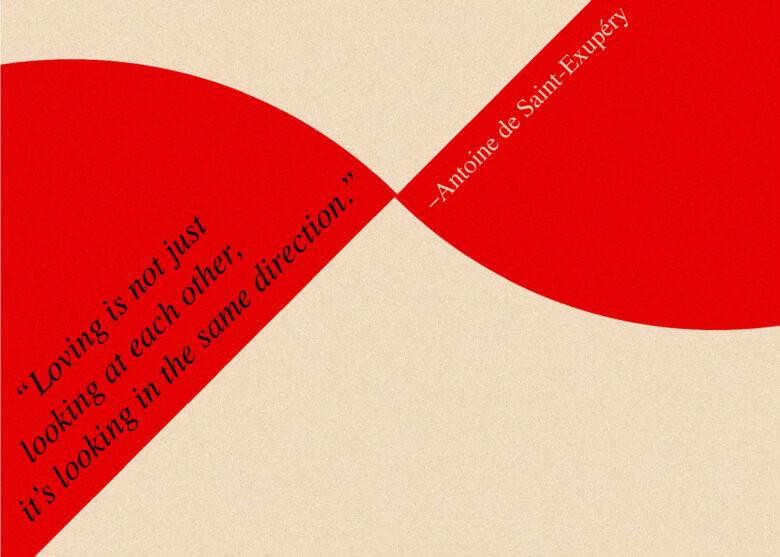 14. "Loving is not just looking at each other, it's looking in the same direction."
Antoine de Saint-Exupéry
15. "Being deeply loved by someone gives you strength, while loving someone deeply gives you courage."
Lao Tzu
Get Lyrical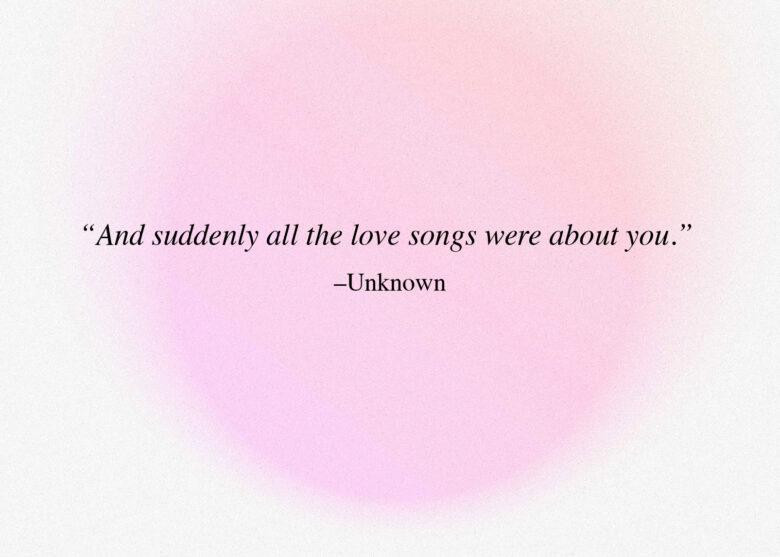 16. "And suddenly all the love songs were about you."
Unknown
17. "It is astonishing how little one feels alone when one loves."
John Bullwer
Get Philosophical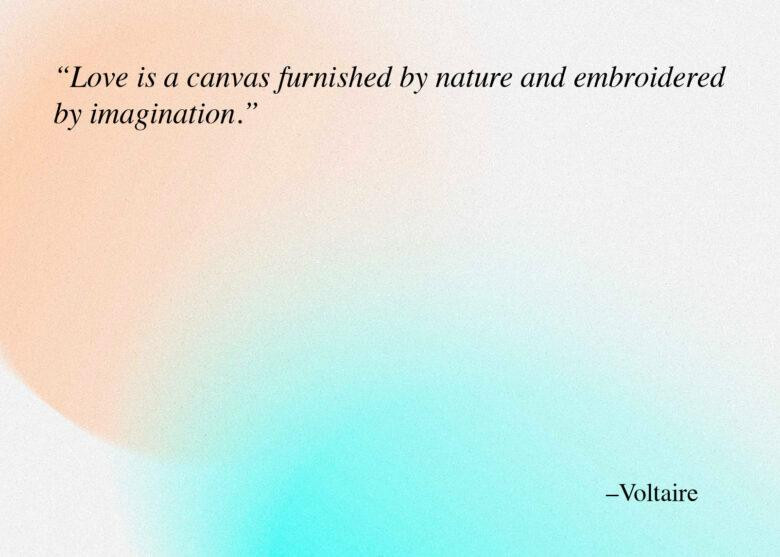 18. "Love is a canvas furnished by nature and embroidered by imagination."
Voltaire
19. "Love is the greatest refreshment in life."
Pablo Picasso
20. "Love is a grave mental disease."
Plato
21. "The heart has its reasons, which reason knows not."
Blaise Pascal
22. "Love is when the desire to be desired takes you so badly that you feel you could die of it."
Henri de Toulouse-Lautrec
Be Cheeky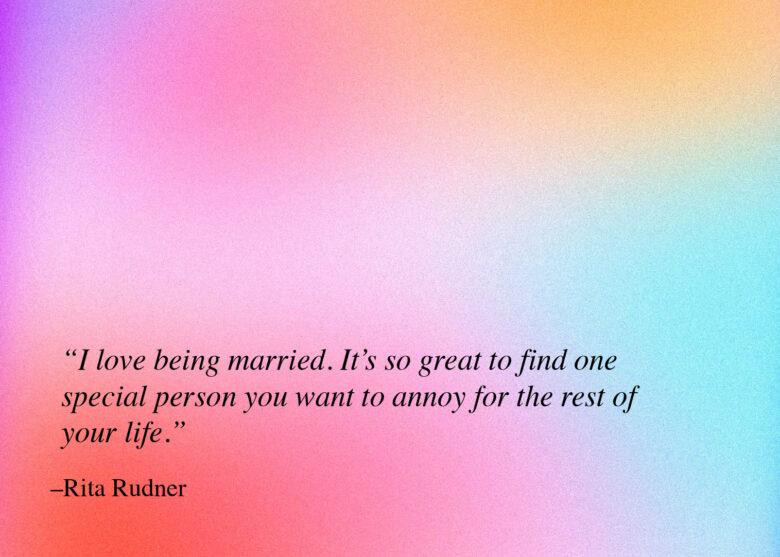 23. "I love being married. It's so great to find one special person you want to annoy for the rest of your life."
Rita Rudner
24. "Money can't buy love, but it improves your bargaining position."
Christopher Marlowe

25. "If love is the answer, could you please rephrase the question?"
Lily Tomlin
Celebrate Your Love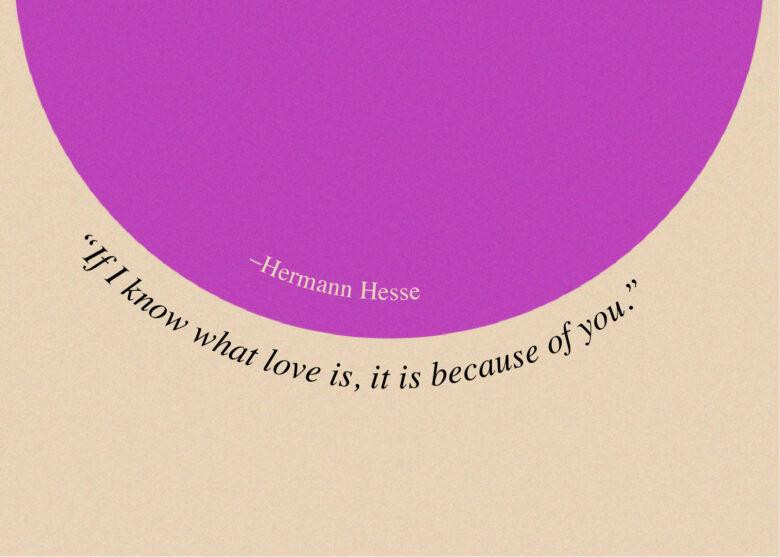 26. "If I know what love is, it is because of you."
Hermann Hesse
27. "The real lover is a man who can thrill you by kissing your forehead or smiling into your eyes or just staring into space".
Marilyn Monroe
28. "If you live to be a hundred, I want to live to be a hundred minus one day so I never have to live without you."
AA Milne
On Love and Friendship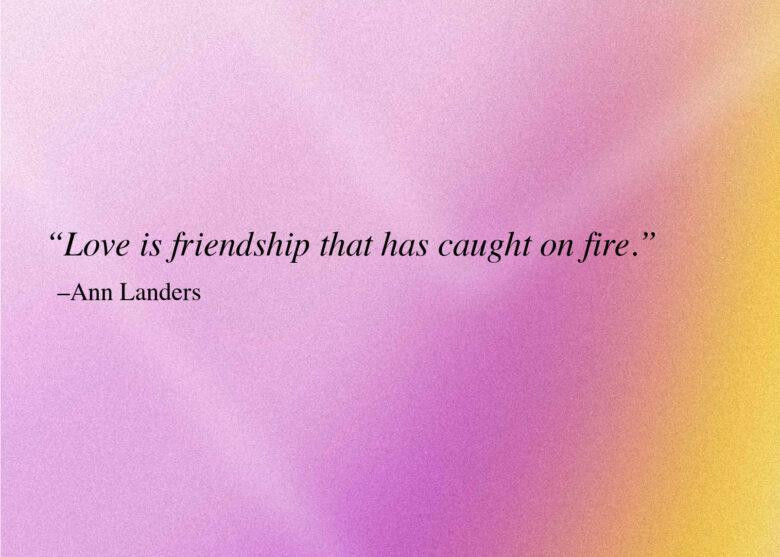 29. "Love is friendship that has caught on fire."
Ann Landers
30. "Rare as is true love, true friendship is rarer."
Jean de La Fontaine
31. "Friendship marks a life even more deeply than love. Love risks degenerating into obsession, friendship is never anything but sharing."
Elie Wiesel
Battle of the Sexes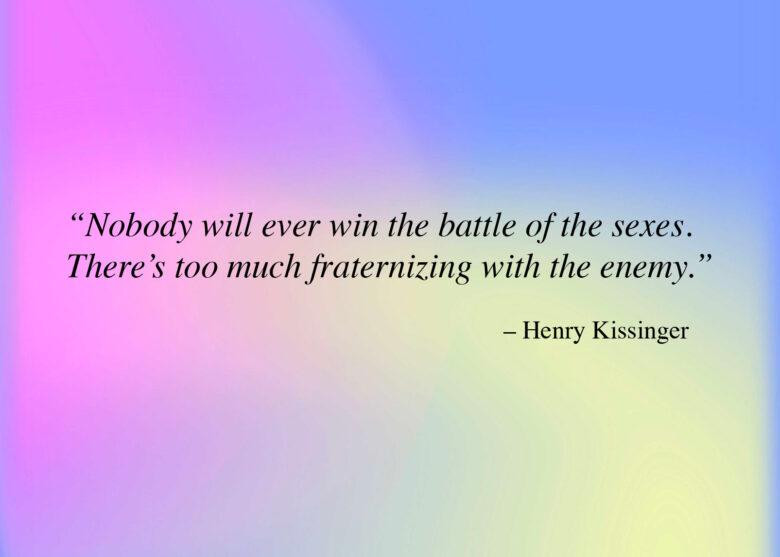 32. "Nobody will ever win the battle of the sexes. There's too much fraternizing with the enemy."
Henry Kissinger
33. "Don't forget I'm just a girl, standing in front of a boy, asking him to love her."
Anna Scott
34. "I saw that you were perfect, and so I loved you. Then I saw that you were not perfect and I loved you even more"
Angelita Lim
35. "It's better to have loved and lost than to have to do forty pounds of laundry a week."
Laurence J. Peter
Show Your Love Makes You a Better Person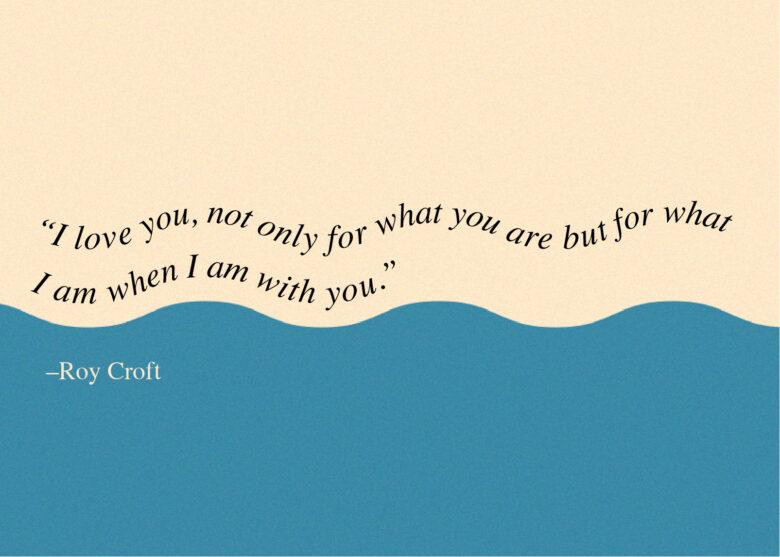 36. "I love you, not only for what you are but for what I am when I am with you."
Roy Croft
37. "I'm much more me when I'm with you."
Anonymous
The Best Thing in Life…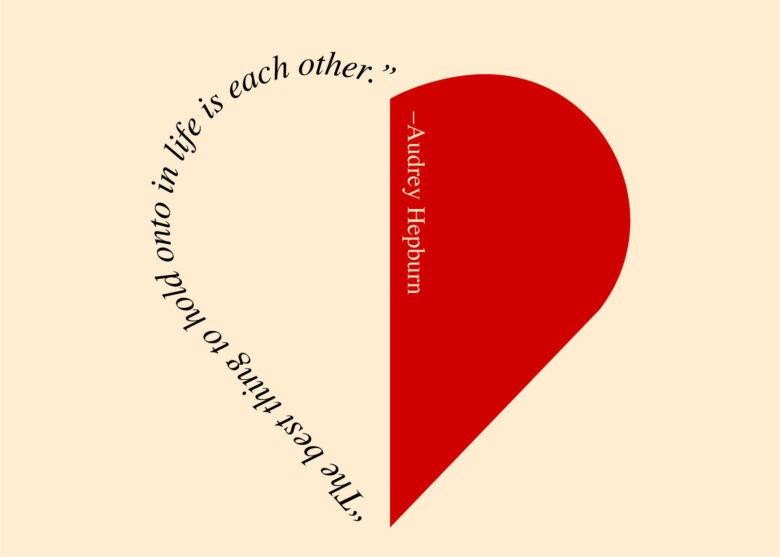 38. "The best thing to hold onto in life is each other."
Audrey Hepburn
39. "You are my heart, my life, my one and only thought."
Conan Doyle
40. "I know of only one duty, and that is to love"
Albert Camus
Hopefully that lot has wet your appetite for this Valentine's Day celebrations. For more inspiration on how to show your softer side this year, make sure to get digitally kitted out too. Now you have zero excuses for being ready this February 14!
Create at the Speed ​​of Culture
Picsart is a full ecosystem of free-to-use content, powerful tools, and creator inspiration. With a billion downloads and more than 150 million monthly active creators, Picsart is the world's largest creative platform. Picsart has collaborated with major artists and brands like BLACKPINK, Taylor Swift, the Jonas Brothers, Lizzo, Ariana Grande, Jennifer Lopez, One Direction, Sanrio: Hello Kitty, Warner Bros. Entertainment, iHeartMedia, Condé Nast, and more. Download the app or start editing on the web Today to enhance your photos and videos with thousands of quick and easy editing tools, trendy filters, fun stickers, and brilliant backgrounds. Unleash your creativity and upgrade to Gold for premium perks!