Just think about how you feel when one of your favorite companies rebrands. It's annoying, isn't it? But, when brands make a drastic change like this, it's for a thoughtful reason. Over time, you'll likely love the new design. However, when brand marketing is ubiquitous for no reason, this can be confusing to consumers. It's also a sign that the brand needs stronger guidance.
Since you want to make consumers feel at home with your product or service, build consistency from the start.
What is the visual identity of the brand?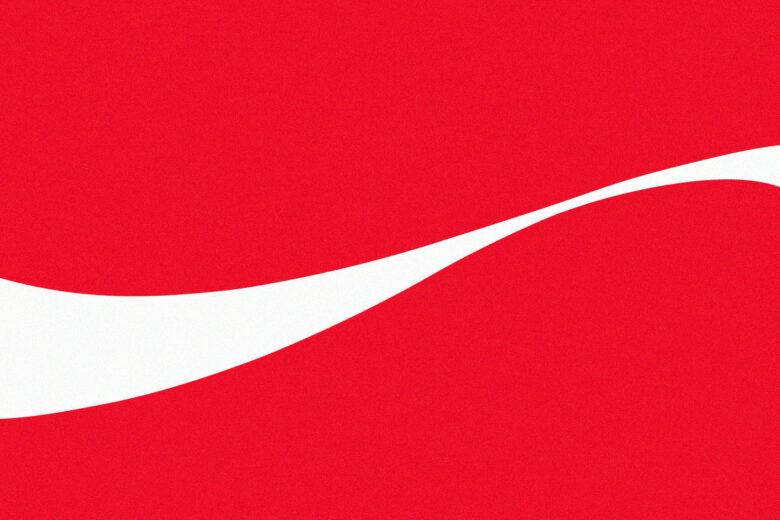 Think of brand identity as the personality of a product or service. This brand personality consists of certain unchanging elements such as colors, designs, logo branding, and fonts.
What are the brand guidelines?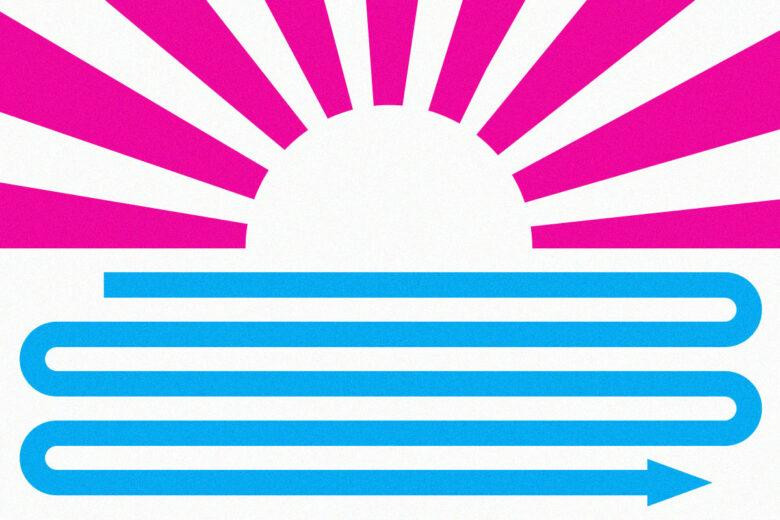 At the top of this article, we've talked about consistent elements that help you identify with the brand no matter where you are or how the material is presented to you. You can easily identify a Coca Cola ad, for example, whether it's on a billboard or in a magazine. These consistent elements are brand guidelines, and these rules include important identification of graphic design elements.
What types of branding guidelines are there?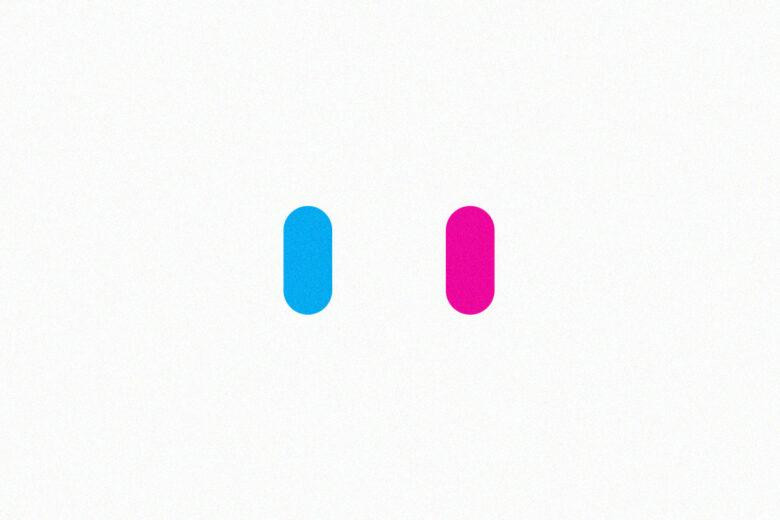 As with any type of design project, you'll want to set the mood before you begin. Ask yourself what your brand personality is and what it should look like to the world. Once you know what you want your brand to look and sound like, you can start using different templates to present this information to your users. Here are some of the attributes to refer to when creating your guideline and need for brand inspiration:
fixed: We'd argue that brand consistency is key to any guide, so consider this style the foundation of everything you do. Think about the platforms your product will reach and make sure your brand guide has coherent design rules for each of them. Don't forget to think about spacing and size. Your brand will appear on everything from social media to billboards.
comprehensive: Some of the world's most famous companies have not only directories, but brand books—well, digital copies of them at least. These branding packages take into account every last detail, such as how the brand appears in each outlet and presentation from TV to T-shirts.
minimum: We'll keep this brief, just like the corresponding brand's toolkit. Give brand users what they need with a quick and dirty guide that includes fonts, colors, and logos.
Voice guidance tone: Part of any personality is how one speaks. This includes your brand. Teach users how to speak your brand so that when they create marketing materials or promote your product or service, they are speaking in the right terms. If your brand is informal, this guide should include pointers about slang. If you prefer formalities, let users know the terms you deem appropriate to communicate the brand.
What Should Brand Guidelines Include?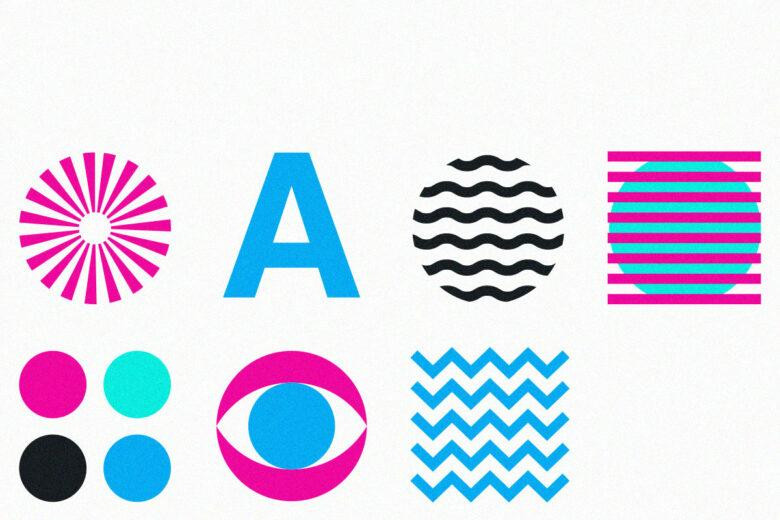 color palette
printing
Examples of voice and tone for written content
Guidelines for different platforms and print media
Brand logo and its various forms
Parameters and measurements of spacing between visual elements
Indications of the feel of the brand
What are some of the best branding guidelines?
These brands have excellent examples of brand guides. this is the reason:
LinkedIn: comprehensive.
Red Cross: simple and straightforward.
Beats by Dre: A great brand, even in the manual itself.
Grill pasta: symmetrical lines.
ESPN: Comprehensive instructions.
Uber: minimalist scheme.
Skype: Excellent voice and tone guidance.
Fandango: Great voice guidance.
Mailchimp: Focus on the user sentiment that tells the brand's story.
The Olympics: Unforgettable Cross Platform Solutions.
How to Create Brand Guidelines with Picsart
In this tutorial, we'll show you how to create a simple, one-page branding guide that covers brand colors, logos, font, and tone.
Open the Picsart web tool and click on the color purple new project button.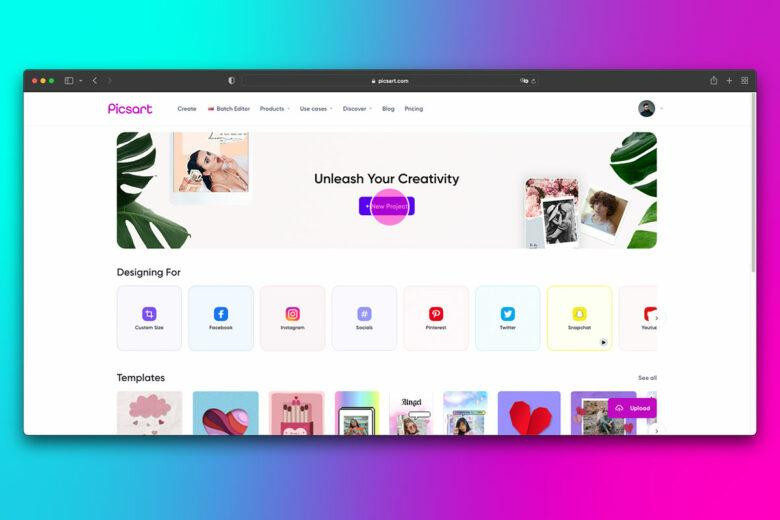 2. Start with the fabric template that fits your vision. the media kit The option is great for these purposes.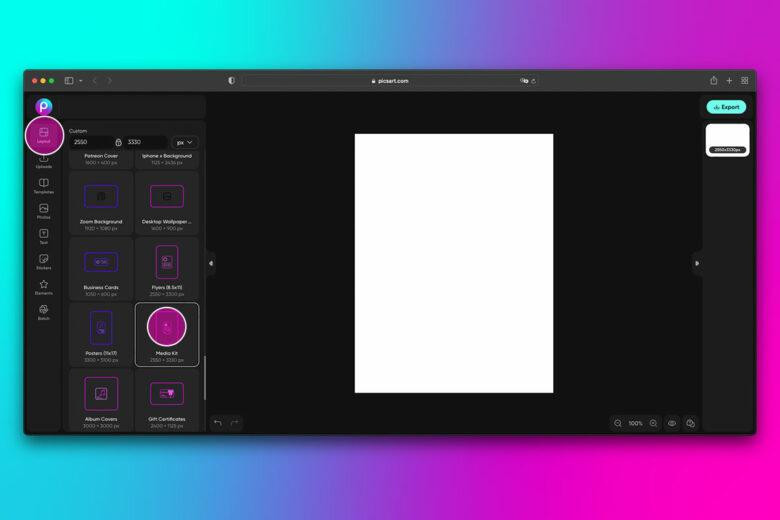 3. Divide the space into categories of branding elements, such as: logo, font, and color. use the text A tool for adding titles to each section.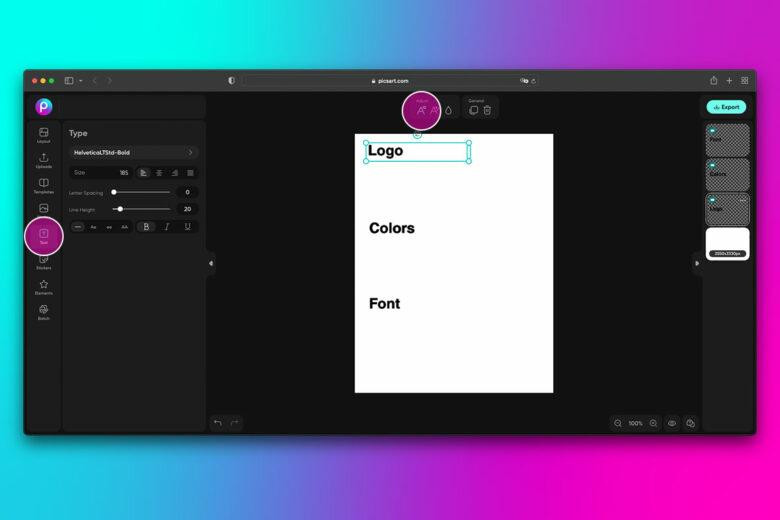 4. Drag and drop or upload different versions of logo templates into the app and add them to the corresponding section of your branding style guide. Next, identify each type of logo by where and how to use it. You can drop more text boxes into the document as needed by following step 3.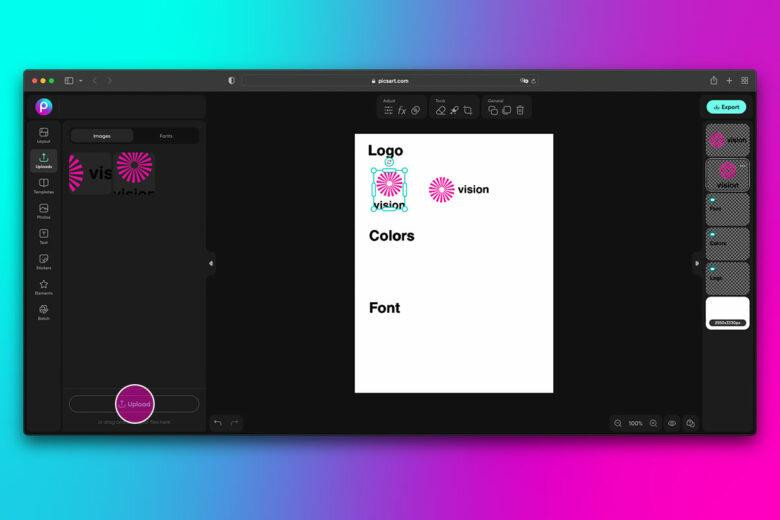 5. Use shapes A tool for creating swatches of the primary colors in your brand. Include any acceptable alternate or secondary colors. You can change the color of the shape using the eyedropper tool at the top of the canvas. Add more text boxes to describe the function of each color. You can also write HEX or RGB color codes as this will be useful for designers.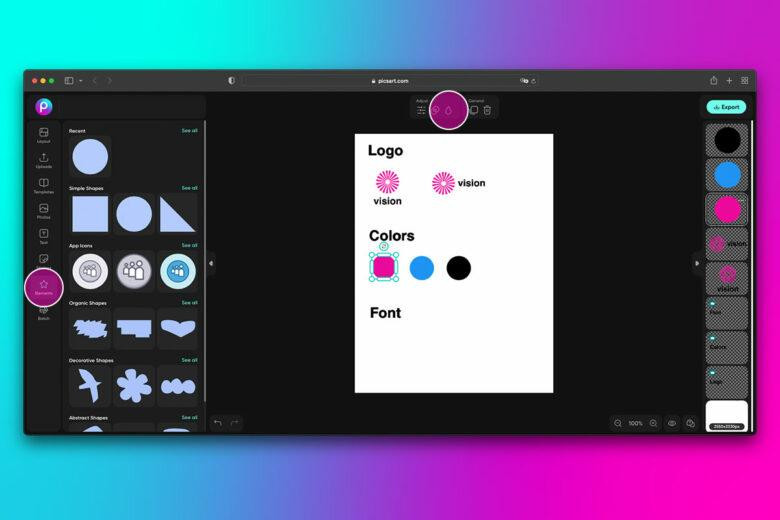 6. Add your branding typefaces using the text box tool.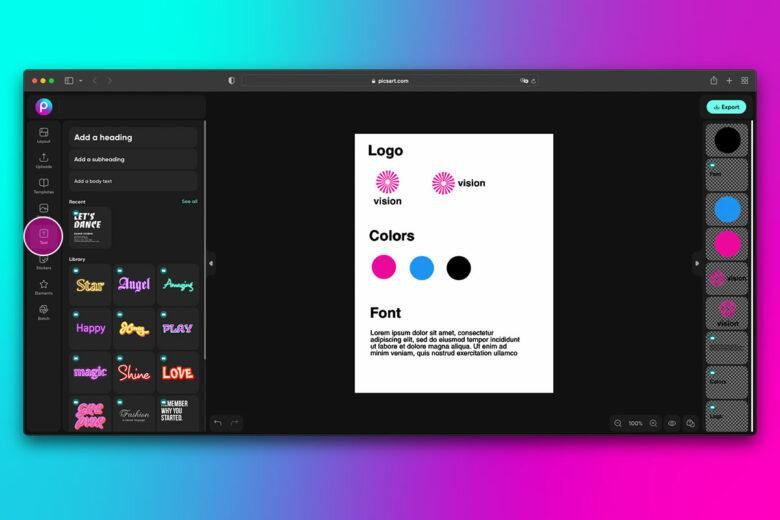 7. Adjust the spacing in the sections as needed by dropping and dragging items around.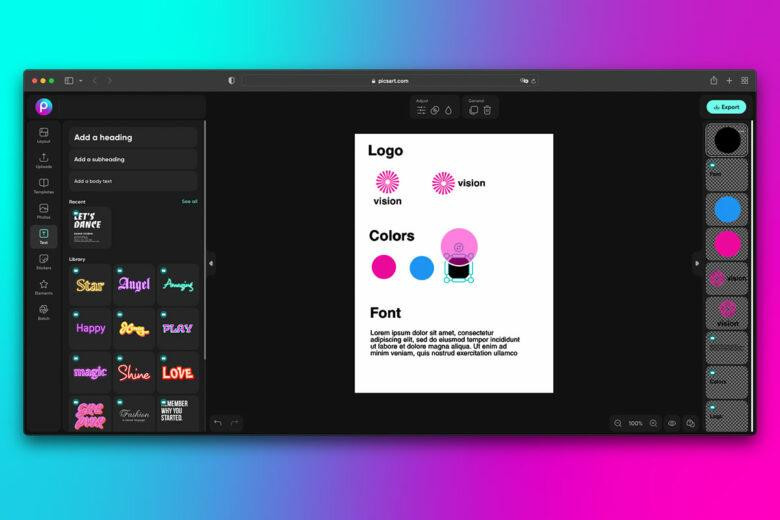 8. When you are satisfied with your design, issue your design by clicking the purple button in the upper right corner of the screen. Next, share this helpful document with everyone on your team who will be using your brand for marketing and publicity.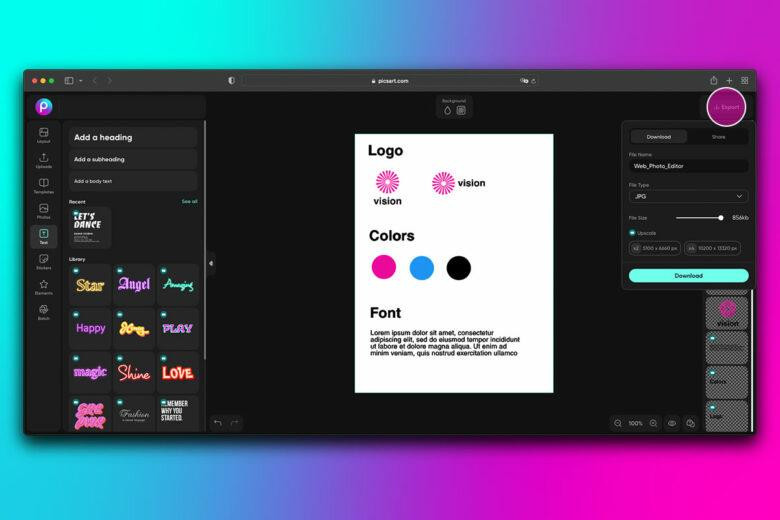 Mobile Brand Design Guides
When designing on the go, the Picsart mobile app can be just as useful. Explore the powerful suite of editing tools for creating Brand Directory items, using the same steps described above for desktop, highlighting some of the differences below.
1. Open the Picsart app and click on the purple plus sign to start your project.
2. Choose your fabric from a range of options, depending on what works best for your brand.
3. Add your brand textlogos and more with editing tools along the bottom row.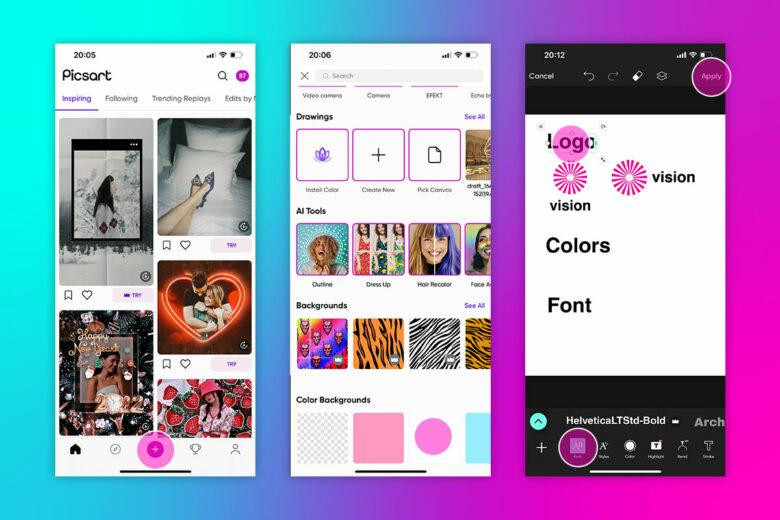 4. Make adjustments to each element as required, adjusting properties such as font and color to match your brand.
5. When the editing process is finished, press Progressing To save or publish your work.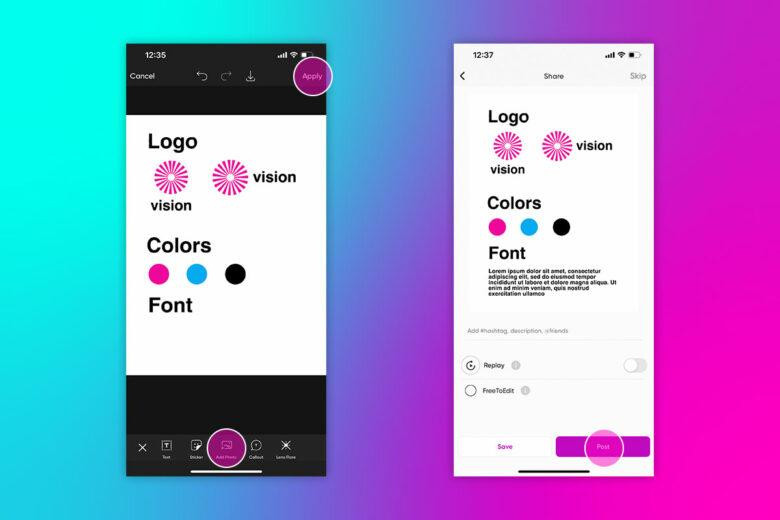 Create culture quickly
Picsart is a complete ecosystem of free-to-use content, powerful tools, and inspiration for content creators. Picsart is the world's largest creative platform, with 1 billion downloads and over 150 million monthly active creators. Picsart has collaborated with top artists and brands such as BLACKPINK, Taylor Swift, Jonas Brothers, Lizzo, Ariana Grande, Jennifer Lopez, One Direction, Sanrio: Hello Kitty, and Warner Bros. Entertainment, iHeartMedia, Condé Nast, and more. Download the app or start editing on the web Today to enhance your photos and videos with thousands of quick and easy editing tools, trendy filters, fun stickers and cool backgrounds. Unleash your creativity and Upgrade to gold To get premium benefits!