Japanese telecoms company KDDI, commercial drone manufacturer PRODRONE and underwater robotics company QYSEA Technology have combined to create what they claim is the first "revolutionary" sea-to-air drone.
The drone features a combination of a heavy-duty drone and an industrial-grade remote-operated underwater vehicle (ROV) and is the result of six years of development. KDDI and QYSEA say their joint efforts have resulted in the first commercial unmanned aircraft capable of operating seamlessly across land, sea and air.
From above the earth to under the sea
The idea of ​​a drone that could fly through the air and then dive underwater isn't quite what the team actually came up with. While the six-rotor drone can indeed fly over land and sea and actually land on water, underwater navigation is done through a separate, connected ROV while the flight module floats to the surface. Specifically, it uses long-range mobile communications to remotely fly to its predetermined path at sea and after landing, the ROV unit is launched and deployed to operate under the sea at a maximum depth of 150 meters (about 492 feet).
However, there are still significant advantages to this type of UAV. Once the drone is at sea, the pilot is able to remotely operate the ROV from a secure job site and perform a variety of underwater inspection, maintenance and repair work. Sometimes going out to sea may not be safe or even feasible to manually deploy a drone, which makes the drone especially useful in those situations.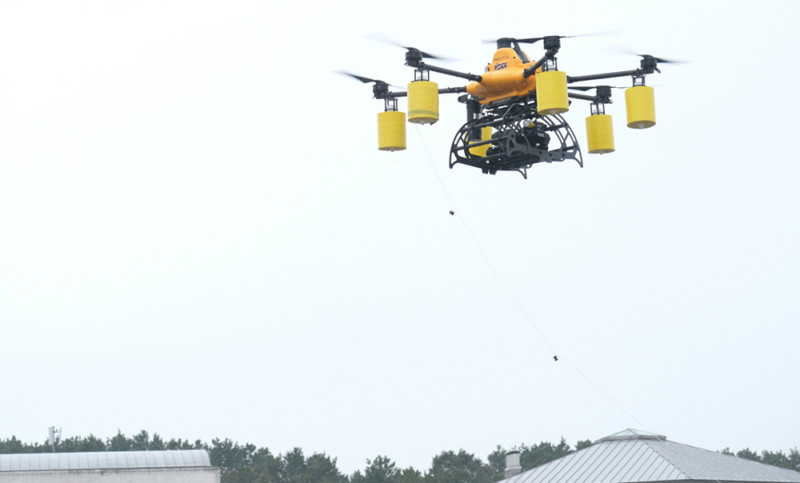 marine applications
The two companies say the "Sea-Air Integrated Drone," which has no other name yet, has been shown to have far-reaching applications in various maritime industries.
"In offshore wind energy, the drone can be deployed to perform complex inspections and maintenance work on their structures and foundations to significantly reduce human risks," QYSEA explains. "In the world of aquaculture, drones can fly abroad to monitor their livestock and crops, as well as perform maintenance and repair work with the many additional tools of the ROV. Other marine applications include operations that include search and recovery, hull inspections, and many more than other infrastructure under the sea.
Equipped with a 12-megapixel camera with a resolution of 4K
The drone is not designed for creative photo-taking (although it does have some navigational cameras and at least one camera facing down that can monitor the ROV from the surface), but the underwater ROV unit is equipped with a 12-megapixel 4K UHD camera with a Sony CMOS sensor 1/2.3 inch. QYSEA has not been able to deliver betapixel With examples from drone photos, showing that visuals are currently limited.
However, the company notes that the ROV is a modified version of the Fishish V6 Plus, which the company has shown several times on its YouTube channel.
The device is clearly designed for more practical use cases, but the technology could find its way into creative devices designed to capture aerial and subsea footage for artistic purposes. QYSEA, for example, is already producing a range of underwater ROVs capable of much better image quality. For example, the Fishish P3 underwater robot features a 20MP 1-inch sensor and can capture 4K video.
The P3 is just one of several underwater drones QYSEA has produced, many of which feature much more advanced optical capture capabilities than those found in sea-to-air drones.
If there is a demand for it, there is nothing to prevent QYSEA and PRODRONE from producing an air-to-sea product for photo and video purposes. However, it is not clear if the two companies plan to do so.