Often referred to in Western cultures as "Chinese New Year," this year heralds the Year of the Tiger. Lunar New Year is not limited to just one day. On the contrary, the festivities lasted nearly two weeks, culminating in the Lantern Festival on February 15.
Lunar New Year is widely celebrated all over the world, and is characterized by rich symbolism and many ancient legends associated with it. But if you're new to celebrating Chinese New Year, you may have many questions: What colors should you wear or use in your greeting card? What are common Lunar New Year greetings? What is the meaning behind red lanterns, Chinese zodiacs, and animals associated with each year? And most importantly, how do you celebrate with your family and friends? We've put together all the answers for you here.
After reading this, you will be able to celebrate Happy New Year in the traditional way Lunar New Year greetings. You, too Learn how to make your own Chinese New Year greeting cardsflyers, wallpapers and social media posts.
What is Lunar New Year?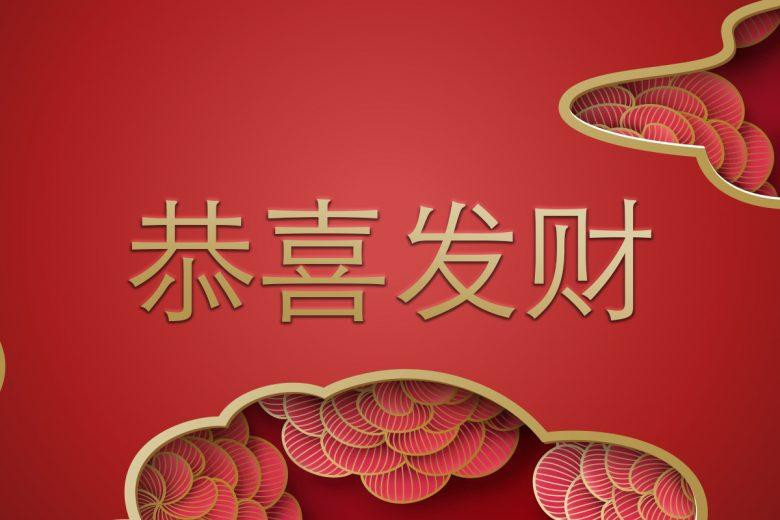 If you know a thing or two about ancient cultural holidays, you probably know that many of them were closely related to natural events such as the changing of the seasons. For example, many Western societies follow a Gregorian or solar calendar based on one rotation of the Earth around the Sun. However, there are also lunar calendars based on the phases of the moon.
Lunar New Year, which originated in China about 3,500 years ago, is usually celebrated on the second new moon after the winter solstice, sometime between late January and mid-February. The exact date changes every year as it depends on the lunar cycle.
Each lunar new year is named after one of the 12 animals that make up the Chinese zodiac. According to an ancient legend, an emperor held a race over these twelve animals. The rat came first, then the ox, followed by the tiger, the rabbit, the dragon, the snake, the horse, the goat, the monkey, the rooster, the dog, and finally the pig. According to Chinese astrology, if the year ends with 0 or 1, it is the year of metal, if with 2 or 3 it is the year of water. The year ending in 4 or 5 indicates the year of wood, 6 or 7 is the year of fire, and 8 or 9 is the year of the earth. Each year is also associated with lucky traits, numbers, colors and even trends. Put all of this together and you can see that the Lunar New Year in 2022 is the celebration of the water tiger.
Who celebrates the Lunar New Year?
Lunar New Year is celebrated in many Asian countries, each with its own traditions. This includes China, Singapore, North and South Korea, Vietnam and Thailand. It is also celebrated in cities with a large Chinese population, such as London, New York, San Francisco and Vancouver.
While there are some differences in how Lunar New Year is celebrated around the world, some common ways include lighting fireworks, gifting small amounts of money in red envelopes, and getting together for a family dinner with traditional dishes. It also includes getting rid of clutter and cleaning the house before the New Year; watching street performances with acrobatic dancers, dragon and lion; The lighting of red lanterns symbolizes wealth, hope and a bright future.
Traditional Chinese Lunar New Year Greetings
One of the easiest ways to celebrate the holiday is by sharing typical greetings with friends, family, and co-workers. Whether written on a greeting card, printed on a flyer, shared on social media, or said in person, it's a fun way to share the joy of the season.
Check out this traditional Lunar New Year Greetings In Chinese and their English translations. Remember to add 祝 ("Zhu nín"), which means "I wish you," for a more formal greeting.
Lunar New Year greetings to business partners and colleagues
Let's cover the basics with the most common

Lunar New Year greetings:

恭喜 发财, pronounced "gong she fa tsai", is how you say "congratulations and prosperity to you" in Mandarin. This is a greeting that is especially relevant to the business world.

If you're feeling particularly generous or aren't sure what the person you're greeting wants most, it's always a good idea to use 吉祥如意 (pronounced "jíxiáng rúyì"), which means "happiness and good fortune in accordance with your wishes."

this is

Lunar New Year Greetings

Especially suitable for adventurers and adventurers. Try greeting someone with 吉星高照 ("jíxng gāozhào"), "May the lucky star shine on you," and watch their face light up with best wishes.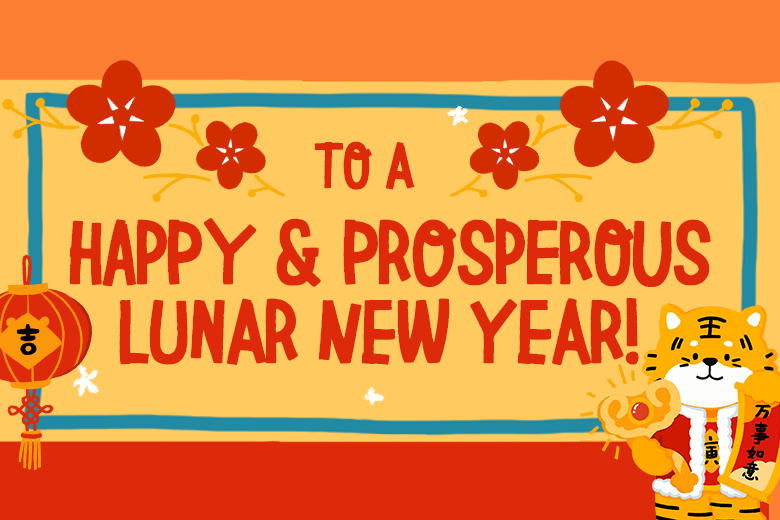 Lunar New Year wishes for family and friends
Since modern China has switched to the Georgian calendar, the beginning of the lunar year is now also celebrated as the Spring Festival. This means you can also say "Happy Spring Festival", 春节 ("chūn jiē kuài lè" in Mandarin and "tsun zit fai lok" in Cantonese).

And while you're at it, why not do your best and say 福 如 ("Fú rú dōnghǎi"): "May your happiness be as great as the great eastern sea."

Finally, this is common

Lunar New Year greetings:

Health, ("shēntǐ jiànkāng") means "I wish you good health.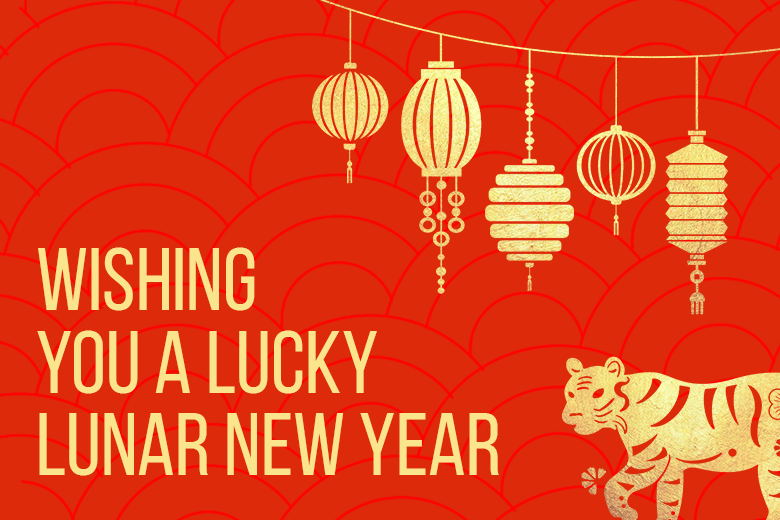 Greetings year of the tiger
Now that you have the traditional greetings for wishing someone a Happy Chinese New Year, let's dive into some of the year of the tiger greetings.
Wish someone prosperity this year by saying: 虎年 ("hǔ nián dà jí"), which means "good luck in the year of the tiger."
Emphasize a year of continued good fortune by saying: 虎 ("hǔ yùn lián nián"). It means, "Lucky like a tiger year after year."
Say this and hear the tiger roar! Wish Friends and Family: 虎啸 ("hǔ xiào xiáng ruì"), which means "the tiger roars for the auspicious new year."
The lunar new year greetings call the year of the great tiger. Say 虎 ("hǔ qì chōng tiān"), to celebrate, "The Year of the Great Tiger is coming!"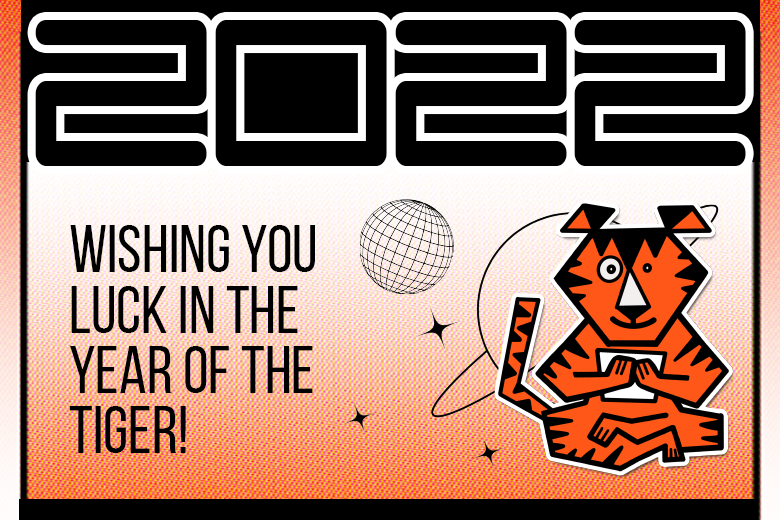 Lunar New Year Celebration Design Ideas
It's party time! We love eating our fair share of nian gao, a cake usually consumed during Chinese New Year with friends and family. But we also love designing Lunar New Year greeting cards, flyers, social media posts, invitations and backgrounds to welcome the year of the tiger.
Picsart It has a full set of creative tools to help you feel happy easily Chinese New Year content. Ready to create your own? We've detailed some ideas and tutorials below for the best Chinese New Year so far.
Lunar New Year greeting cards
I wonder why red is usually used on a file Chinese New Year Greeting Card? According to an ancient legend, the color red, along with fire and noise, was used to defeat the Nian, a voracious half-ox half-lion that was used to terrorize the villagers on New Year's Day. This is why you usually see vibrant reds Chinese New Year greeting cards (often combined with golden text).
Want to design your own? Chinese New Year Greeting Card in PicsArt? Here's how to do it in the app:
Step 1) Open a file Picsart app And tap the plus sign (+) at the bottom of the screen.
Step 2) Choose from a variety of Lunar New Year wallpapers or upload your own. Want to work from a plain red background? tap on draw and color, then press more In the backgrounds Divide and select a shade of red using the color wheel.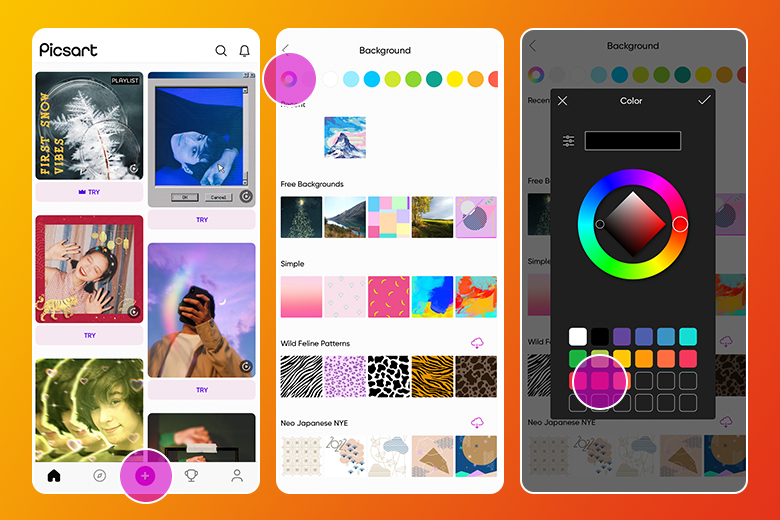 Step 3) Scroll through the editor toolbar at the bottom of the screen and click attached. looking for Chinese New Year or Lunar New Year in the search bar. Here you will find a large selection of Chinese New Year designs in red and gold as well as New Year content from Tiger. You can also search for lanterns, dragons, firecrackers, etc. Progressing in the upper right corner.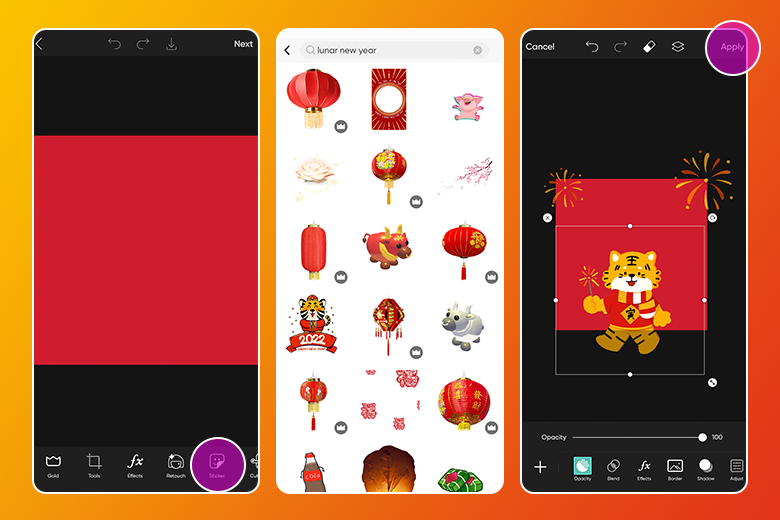 Step 4) Scroll through a file editor toolbar and press text. Write down one of the aphorisms from the Lunar New Year Greetings section above. Then, tap on the top right check mark. Now it's time to choose the font. Scroll right to choose from popular fonts or click the up arrow to search for a specific font. tap on the color To select a golden shade. click Progressing When you have finished editing the text.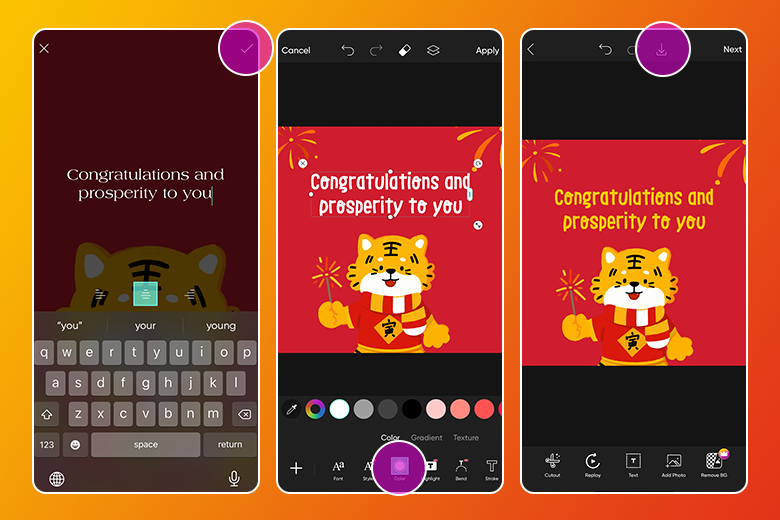 Step 5) Save and share custom Lunar New Year greetings.
Lunar New Year flyers
If you are designing a Lunar New Year flyer, consider using a pale yellow background with a large red circle to denote the moon. This results in an interesting reversal of the common colors of red and gold that appear on the Lunar New Year greeting cards shown above. If this is your first time posting a flyer, check out our flyer setup guide.
Here's how to create Chinese New Year flyers using Picsart web tools:
Step 1) Open a file Picsart Web Editor And start a new project. You can either upload one of your own photos or choose from our free photo editing suite. In this case, we chose one with a pale yellow background.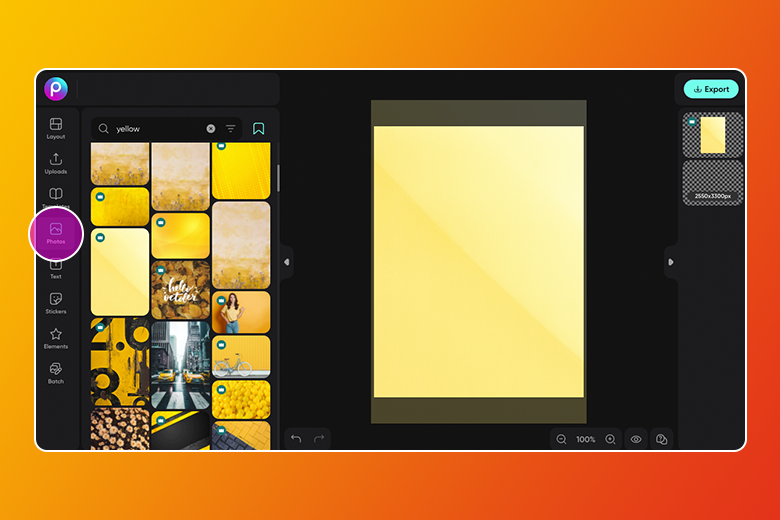 Step 2) Press elements In the editor Toolbar on the left and select Circle. Drag to change position and resize. This will become your red moon.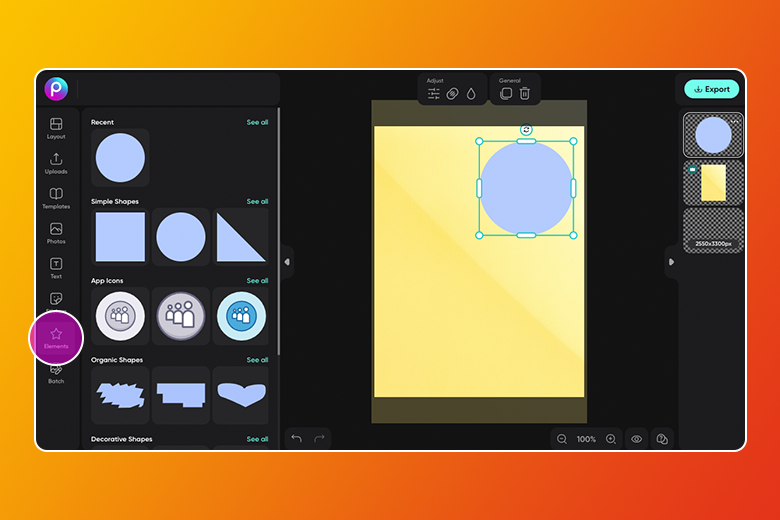 Step 3) Click on the color drop icon in the toolbar at the top of the canvas to open the color wheel and choose the perfect shade of red.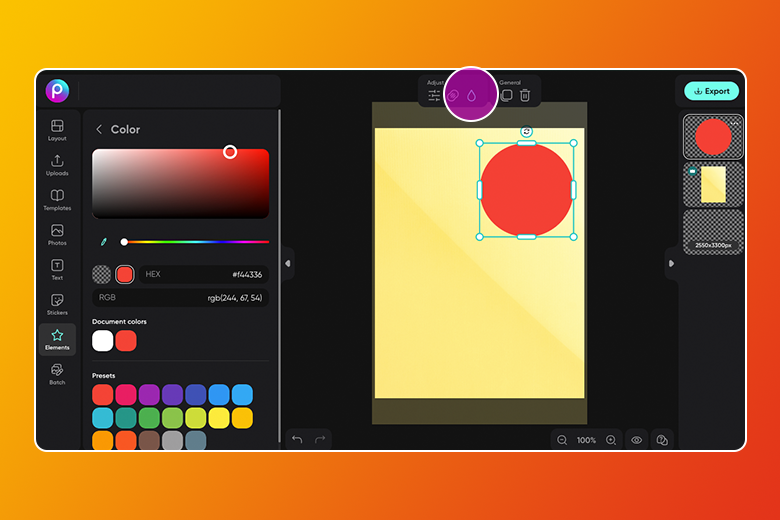 Step 4) Press text In the editor Toolbar on the left to add Lunar New Year greetings. You can also any other relevant information here. Try using the text tools in the toolbar above, changing the color, font, and more.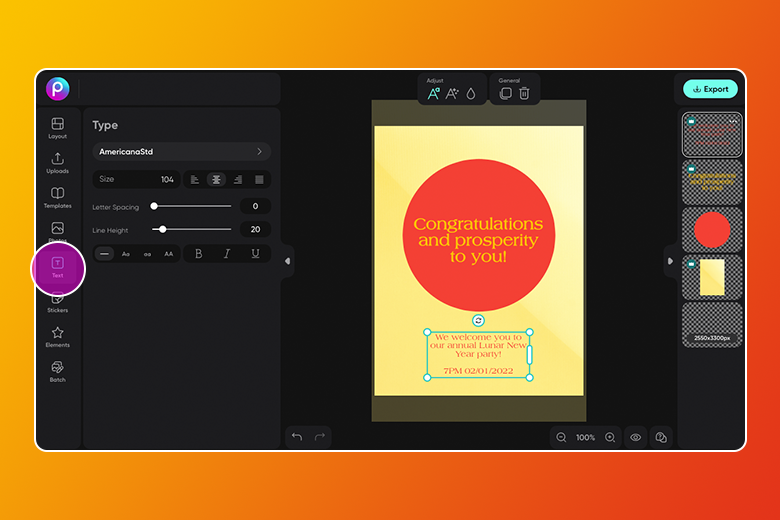 Step 5) Add festive Lunar New Year stickers by pressing attachments in the editor and find our latest content packs. When you have finished designing your personalized Chinese New Year flyer, click issue to download to your device.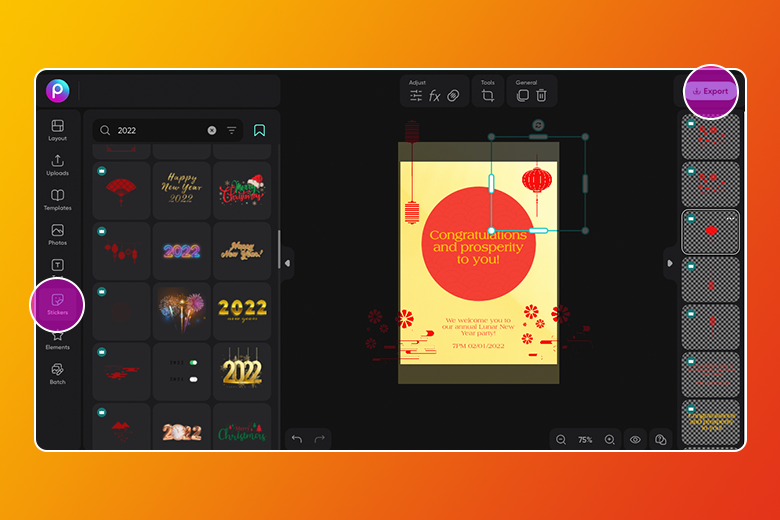 Social media posts for the Lunar New Year
Consider creating a social media post wishing your fans warm Lunar New Year greetings. There are plenty of social media templates at Picsart, the perfect size for any platform you're posting on. Use it to easily create everything from Instagram Stories to Facebook feed posts that spread Happy New Year cheer.
Lunar New Year wallpapers
Want to mix it up? Create personalized phone wallpaper to celebrate the start of a happy new year. Use the classic red shade for a vibrant Chinese New Year phone wallpaper or choose pale yellow with red as an accent.
Alternatively, you can use colors or pictures of the animal of the ruling year. For the year of the tiger, the lucky colors are orange, black and blue. These are said to help in accessing good fortune, fortune and career advancement.
However you choose to celebrate, we wish you health and prosperity in the Year of the Tiger!
Create culture quickly
Picsart is a complete ecosystem of free-to-use content, powerful tools, and inspiration for content creators. Picsart is the world's largest creative platform, with 1 billion downloads and over 150 million monthly active creators. Picsart has collaborated with top artists and brands such as BLACKPINK, Jonas Brothers, Lizzo, Sanrio: Hello Kitty, I am a Voter, Bebe Rexha, Maroon 5, One Direction and Warner Bros. Entertainment, iHeartMedia, Condé Nast, and more. Download the app or start editing on the web Today to enhance your photos and videos with thousands of quick and easy editing tools, trendy filters, fun stickers and cool backgrounds. Unleash your creativity and Upgrade to gold To get premium benefits!